At 6'4″, you can't miss him. The self-taught caricature artist towers over most of his customers and passers-by throughout Shoreline Village in downtown Long Beach. But just as noticeable as his height, is his smile. Somewhere between a grin and a laugh, Marquis Cook, also known as MarqDraw on Facebook and Instagram, wears a look of friendliness and graciousness for his art, his life and his plans.
Since 2012, Marq has navigated the city's art resurgence – visiting all of the galleries, open mics, festivals, exhibits and parties that welcomed his pens and canvas. He built a name for himself amongst the well-established painters, mixed media artists, poets, photographers, musicians and other caricature artists, by simply being his humble self and easily networking, learning, and absorbing the scene. Along the way, Marq also built a steady fanbase who from toddlers to elders, genuinely have as good of a time posing as Marq has while capturing their personality in a caricature drawing.
I asked Marq about the complexities of being an artist, his inspiration and what he has in store for 2017. Meet MarqDraw.
SolShock: Who is Marq as an artist?
Marq: As young as I can remember I've always had an interest in arts and crafts. Making things and using my hands lead to meticulous doodling, coloring, tracing, and freehand drawing. Most of my drawing started out tracing the lines of comics. I used to watch a lot of animated cartoons and when I discovered comics it reminded me of stills of what I saw on tv. When I discovered the "How to draw" section of the library I started teaching myself from books. Off and on thru the years it's been this way added with a class or two here and there. Or art buddy showing me a thing or two.
SolShock: How did you get your start drawing caricatures?
Marq: An art buddy I know told me about an opening for a cariacture position at Universal Studios. I auditioned and got the job.
SolShock:What are some of your favorite things to draw?
Marq: People and outdoor scenes
SolShock: What do you enjoy most about being an artist in Long Beach?
Marq: It's not as saturated and competitive as the other areas like Venice and DTLA. The artist community seems more collaborative and open.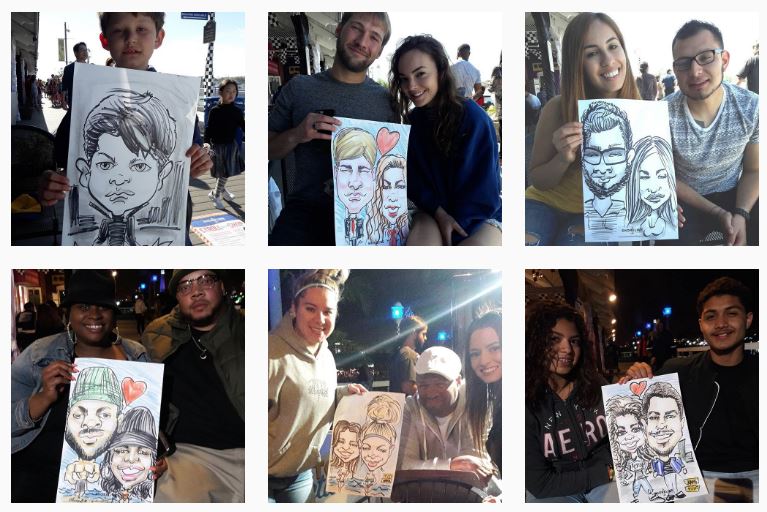 SolShock: What is the best and most challenging thing about being a full-time artist?
Marq: Finding your patrons. The people that pay you for your art.
SolShock: If there was a soundtrack to MarqDraw, while you're working, what music would we hear?
Marq: It would be an ecletic old school 70s/80s/90s mix of Funky R&B, hip-hop and rock.
SolShock: Who are some of your favorite artists – local and famous?
Marq: Local-Kenny McBride, Robert Vargas. Famous- Aaron Mcgrugger(Boondocks) Mort Drucker (Mad Magazine) Jim Lee ( Marvel/DC Comics).
SolShock: Where do you draw your inspiration from?
Marq: Other Artists, Life, Music
SolShock: Do you have a ritual before you begin your art?
Marq: Not really.Sometimes I may do some warm-up strokes or do a warm-up drawing.
SolShock: What is it about you that makes you radiant?
Marq: My energy is in the moment, happy, humourous, and optimistic. I'm always smiling.
SolShock: What was your most recent happy discovery?
Marq: Doing this interview.
SolShock: What do you want people to know most about Marqdraw?
Marq: FUN…I don't take myself too serious; just enough to execute a quality drawing and collect the money.
SolShock: What can we look forward to from Marq Draws in 2017?
Marq: BRAND VISIBILITY – I'm working on a design concept for the business cards, booths, events, etc. EVENTS – More events. PARTNERSHIPS – Working with other artists on projects.
Make sure to check out MarqDraw at Shoreline Village on the weekends and at art walks, Live at 5 and events throughout the month.