Today, the most notable father and son team in the personal development industry will share their esteemed motivational speaking at the Harvard Graduate School of Education as guests of the "Success: The Only Choice Series". The Harvard-wide event will take place from 2:00 p.m. – 6:00 p.m. at Longfellow Hall at the Harvard Graduate School of Education located at 13 Appian Way, Cambridge, MA 02138.
"Success: The Only Choice Series" is presented by the Harvard Graduate & Professional Student Government (HGPSG) in collaboration with the Harvard Ext. Entrepreneurship & Real Estate Association (HEEREA). This event is free for current Harvard students and $10.00 for non-Harvard students. Registration for this event ends at 2:00 p.m. EST on Eventbrite.
Fresh from his guest appearance at this week's Habitude Warrior Conference in San Diego, CA, John-Leslie Brown is set to blaze the stage as usual, with his exceptional, distinctive Hip Hop and speaking style.
"Success: The Only Choice Series" will also feature Dean Huntington Lambert, Dean of the Harvard Division of Continuing Education and Armando Montelongo, star of the television series "Flip This House".
About John-Leslie Brown:


John-Leslie Brown is a highly sought after motivational speaker and Hip Hop artist with a unique ability to deliver life changing and passionate messages of inspiration which transcend cultural and generational boundaries. By the age of 14, John-Leslie had already won the Best Speaker Award from Toastmasters International, which helped him become the highest paid teen speaker in America. His work and passion for speaking before corporations, universities and youth organizations as a servant leader also earned him an invitation to the White House while he was still in his teens. By the age of 21, John-Leslie began putting motivational wisdom in
Hip Hop form and incorporating powerful music within his presentations. He coined the acronym, HIGH HOPES, which stands for Hip Hop Intellectual Growing Higher Helping Other People Everywhere Soar that became an integral part of his unique profound message. At the age of 30, John-Leslie has written 2 e-books; "Carry The Torch" and "Live Your Dreams", produced over 10 motivational albums which has sold tens of thousands of copies world-wide, and has shared the stage with brilliant business minds such as Richard Branson, Bob Proctor and Bishop T. D, Jakes. Learn more at John-LeslieBrown.com
"I am quite passionate about every opportunity I have to speak, coach a new speaker, write an empowering song or perform my gifts on stage but my absolute favorite passion is being a Father to my beautiful son Honor Phoenix Brown, he's the love of my life, he's my inspiration." -John-Leslie Brown.
About Les Brown: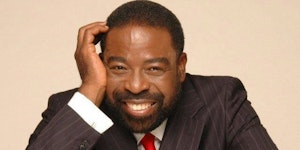 Les Brown is the world's leading motivational speaker. Revered as an icon by his colleagues, Brown received the National Speakers Association coveted Council of Peers Award of Excellence (CPAE), and ultimately, its most prestigious Golden Gavel Award for achievement and leadership in communication. Toastmasters International also voted him one of the Top Five Outstanding Speakers Worldwide. Legions of followers flock to stadiums and arenas to hear a man who never stops believing that with proper guidance and training you can achieve anything you desire in life. Les Brown is committed to motivating and training today's generation to be achievers and leaders. Learn more at LesBrown.com.