"There's a time in your life when you find who you are
That's the Golden Time of Day
And in your mind you will find you're a bright shining star
Ooh that's the Golden Time of Day"
– Maze featuring Frankie Beverly (Golden Time of Day – 1978)
The classic R&B hit "Golden Time of Day" is the song that played in my head as the soundtrack to my recent conversation with Sabine Maxine. The vibrant artistpreneur, writer and photographer is giddy with excitement and beaming over her new curated vintage clothing boutique Patty Wack Vintage. Christina made time for a quick SolShock.com interview to share the inspiration that fuels her latest venture and more.
SolShock: What inspired your latest project?
Sabine Maxine:
Patty Wack Vintage was inspired by my love of vintage clothing. I have been collecting vintage for myself since I was just out of high school. A few years ago I decided now was a great time to turn my passion into a business. I started out vending at various flea markets, then opened an Etsy online shop and now I am fundraising to open up my own store front. I launched my online Gofundme campaign on January 2nd and next is the first official fundraiser event. The Patty Wack Vintage Fundraiser Pop-Up Shop is this coming Sunday, March 22nd
SolShock: What makes you radiant?
Sabine Maxine:
Hmm… I feel most radiant when I achieve a goal. There is something to be said about crossing a goal or dream off my list that makes my soul smile. Especially if it's something big! I'm usually beaming and smiling ear to ear after achieving a goal. It really makes me radiate. I also feel pretty radiant when I'm in a great outfit and good shoes lol. A good outfit can really change your attitude. It can even change your walk… Get a little sexier lol.
SolShock: What was your latest Happy Discovery?
Sabine Maxine:
My latest happy discovery would have to be coming into my own as a queer woman of color, and becoming a wife. I came out of the closet a few years ago and I have never been happier. I feel like I am living the life I am meant to live. I am blossoming and becoming the woman I always imagined myself to be. It's been an amazing period of growth for me. I feel connected within.
Patty Wack Vintage Links: Facebook | Twitter | Instagram
Fundraiser Event for Patty Wack Vintage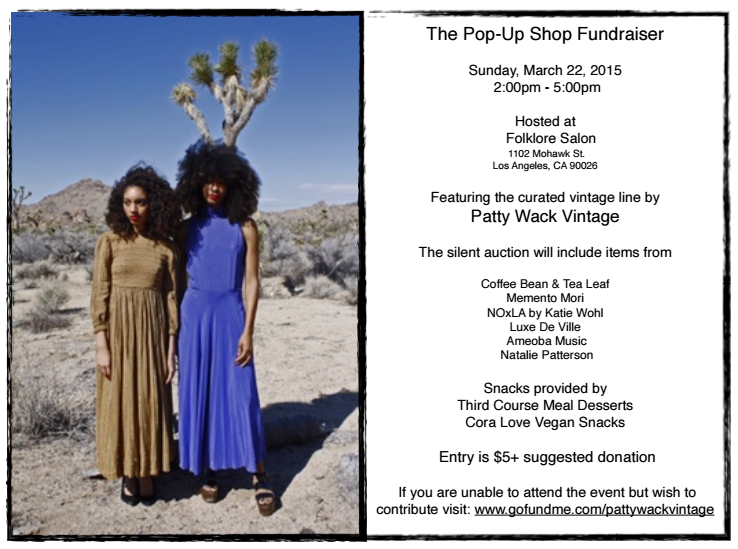 Time: 2:00pm – 5:00pm
Venue:
Folklore Salon
1102 Mohawk St.
Los Angeles, CA 90026
RSVP
Entry is $5+ suggested donation