October is filled with new shows by emerging indie Rock/Hip Hop band 513 Elevators. Catch them live performing songs from their debut album "Goin' Up" and their  latest EP "The Clouds".
Friday 10/19 – Suzy's Hermosa Beach – $5 9PM
Tuesday 10/23 – Zanzibar – Santa Monica – $7 9PM
Thursday 10/25 – w/Sin City at Gamboa Theater (Dark Blue Mondaze venue) in Long Beach $5 6PM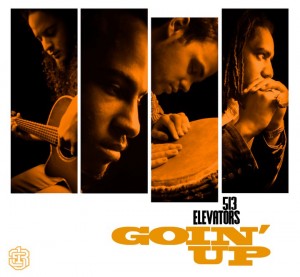 About the 513 Elevators:
The 513 Elevators have created a situation where they have everything they need to do everything they want. Operating from a professional quality in-home recording and visual production studio, they recorded and mixed their entire debut album "Goin' Up", outsourcing only for mastering. The high-quality, yet refreshingly grassroots sound of the album reflects their organic approach to music. With mellow, gather-round-the-fire acoustic licks, booming hip-hop 808s, finger-bleeding electric guitar solos, and pulsating bass lines, the album effortlessly flows on a frequency that's somehow completely missing in mainstream music.
Blending Hip Hop, Rock, Funk, Soul, Blues and Acoustic elements, each member of Cincinnati-born, LA-based 513 Elevators contributes his own unique perspective on music and life to create a unified whole that touches those in and around it. Lyricism, soulful hooks, and addictive melodies are driven by emcees King G (Greg Pipkins) and Slim Da Reazon (Matthew Parham) with dynamic instrumentation and musicality created by DJ and guitarist DJB (Jeremy Bartel) and bassist E-Piff (Mikhail Roberts). Their sound displays a diverse musical spectrum; skillfully shifting from a rock heavy sound in the vein of Red Hot Chili Peppers, The Black Keys, and Cage The Elephant, before submerging you into thought-provoking and insightful, purist hip-hop a la Black Star, The Roots, and Outkast.
In a testament to the group's diversity, the band most recently released a 6-track EP entitled "The Clouds" in collaboration with actor/producer Arjay Smith aka JusBeyond (Jeigh B. Records™). A slight departure from the Hip-Rock sound of "Goin' Up", "The Clouds" is a nostalgic EP dedicated to the 90's era of Hip-Hop Soul music, and successfully brings a fusion of ambient groove and vintage swag laced with a 21st Century flare. On "The Clouds", all group members display superb command of the hip-hop elements used as the foundation of their music, while their instrumentation is boosted by the boom-bap production stylings of Arjay Smith.