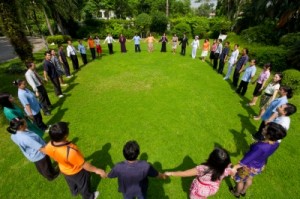 Center Space – the newest community space and Farmer's Market location on Long Beach's west side at Admiral Kidd park.
What makes Center Space so special? 1) It's the latest project near and dear to the hearts of the organizing team and those in Catalyst Network of Communities 2) It offers local residents the opportunity to share and connect with each other in an enjoyable environment. 3) It is about health, nutrition, art, nature, growth, learning, sports, and most importantly, community. Since kicking off in April, Center Space has offered dozens of well-attended classes in yoga, Zumba, soccer, arts & crafts, and more. Knowledgeable speakers, business-owners and community leaders share their time in providing nurturing classes and information. Lyrical Jazz/Free Movement dance classes will be taught later this summer, sponsored by SolShock Publicity.
Visit Center Space every Saturday from 9am-2pm at Admiral Kidd Park 2125 Santa Fe Ave. | Long Beach, CA | 90810 | Learn more here.